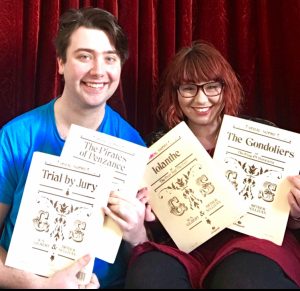 A welcome revival of Gilbert and Sullivan is coming to Perth. The Jambouree Cabaret Singers, along with a Chorus of local singers, are about to start rehearsing for an evening of the famous duo's music. This will take place on Sunday the 10th of September, at 7pm in St Leonard's-in-the-Fields Church.
The first half will present excerpts from various Gilbert and Sullivan operettas, featuring choruses, solos, duets and quartets. In the second half the audience will become the spectators in a Scottish courtroom for a performance of "Trial By Jury", set in Perth. The judge, played by Kenneth Maciver, will try the case of the defendant in an action for breach of promise of marriage. The defendant will be played by Liam Bonthrone and his jilted bride by Teenah Bee. The lyrics have been slightly updated to suit the Perth setting by Alan Laing, who will compere the evening's entertainment.
Well-known Musical Director Edna Auld has always wanted to introduce Gilbert and Sullivan to her Cabaret Singers. As a student she was introduced to their music and performed lead roles in a number of operettas. "Now," she says, "my young singers, aged from 15 to 26, are loving the excerpts they are rehearsing. The idea to include "Trial by Jury" came from one of the Cabaret Singers, Liam Bonthrone, who is currently studying at the Glasgow Conservatoire." The performance in September will be accompanied on two pianos played by Edna herself and by Lorne Heriot-Maitland. The choruses will be conducted by Rona Mackenzie.
In order to widen the musical participation local enthusiasts are invited to join the Chorus. Information can be found on jambouree.co.uk. There will be four rehearsals involving the Chorus, starting on Sunday the 7th of May from 3pm till 4pm, in St Leonard's Church Hall. Further rehearsals will be arranged to suit. Participation in this extended Chorus who may choose to dress up for the performance, will cost £5.
For any further enquiries please email Edna Auld at misaloud@icloud.com