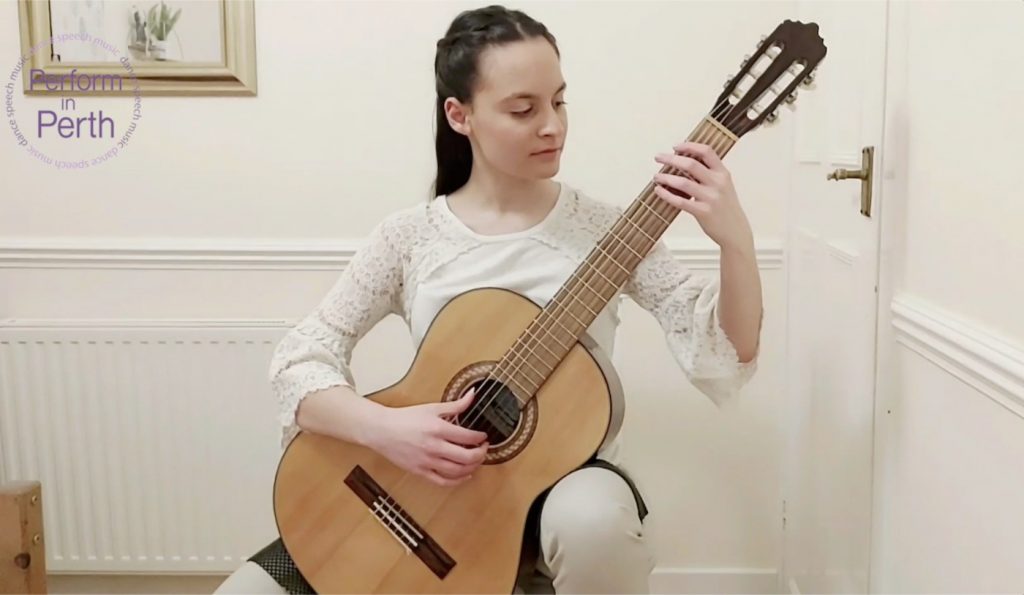 A young singer and string player walked away with some of the most coveted prizes at Perform in Perth this year. 
Pavlina lvanova (16) came to Perth from her native Bulgaria around three years ago and currently attends Perth 
High School. 
As well as singing soprano, Pavlina 
plays classical guitar. 
At Perform in Perth last month, the
 talented youngster won the Scots singing
 class and the opera class for her age
 group. 
She won the guitar class for advanced
 players too.
 And on the final night of Perform in 
Perth 2021, Pavlina was awarded the
 Christina Donaghy Cup for Scots song, and the Joan and Stewart Tennant Quaich 
for the best under 18 vocal performance.

For her other musical talent, classical
 guitar, Pavlina was awarded the Larg 
Rosebowl. For this honour she was in
 competition with the other five winners 
of advanced and open classes in strings,
woodwind and brass, with her guitar 
performance being judged the best.
The young Bulgarian has been making continuous inroads into the musical and further afield.
Together with her sister Tanya, Pavlina 
joined Perth-based Jambouree Choir and caught the attention of vocal teacher choir director, Edna Auld.
Edna said: "Pavlina is totally committed to both her vocal and guitar studies. It's both a pleasure and privilege for me to watch her development 
from a promising 14-year-old and her ever blossoming talent."
"She is also achieving excellent results at Perth High School, including Highers in English, Music, Spanish and Maths."
In February 2020 she won the Rotary Club of Kinnoull vocal award which is open to studenst in Perth secondary schools, with fellow Jambouree singer and 'cellist Michelle Campbell taking second prize.
With the Jambouree Singers, Pavlina performed at Pitlochry Festival
 Theatre for 'Burns Nicht' in 2020.
Prior to this, in 2019, Pavlina became a student at the junior department of the Royal Conservatoire or Scotland.
Reported in the Perthshire Advertiser – 6th April 2021