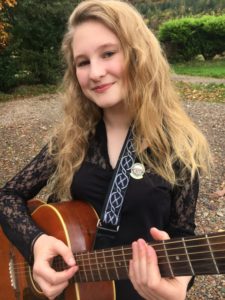 Jambouree Cabaret Singer, Freya Stephen, is celebrating after winning the top prize at this year's Royal National Mod.
Freya (14) won the coveted under 19 groups award with two separate Gaelic songs on Monday, October 16, at the Gaelic culture festival in Fort William.
The former Craigie Primary School pupil wowed the Mod judges with her group's renditions of Tilidh Mi (I Will Return), which was recorded in a studio and broadcast nationwide on BBC Alba's Mod programme earlier this week, and Griogal Cridhe (Gregor's Lament).
The Royal National Mod is currently taking place across Lochaber from Friday, October 13, until Saturday, October 21, and aims to encourage the teaching, learning and use of the Gaelic language through literature, history, music and art and has been an annual fixture in Scotland for over 100 years.
Freya, who still lives in Craigie but has been a pupil at Aberdeen City Music School in Dyce since the age of 11, said: "I am very proud of my folk group for doing so well in the competition, especially as it was our first year at the Mod for most of our members.
"The other folk groups were extremely talented as well, so it was a lovely surprise to see that our hard work paid off."
Freya said being able to record her songs with BBC Alba is an experience she will never forget. She continued: "Recording with BBC Alba was an exciting and new experience for all of us.
"My time at the Mod was very special and I doubt that me and the others will ever forget it."
This was Freya's first appearance at the annual Gaelic festival, only days after her 14th birthday.
At the festival, Freya played guitar and voice alongside Elizabeth MacKenzie from the Isle of Lewis on vocals, Duncan Ritchie on accordion and Stuart Jack on drums.
The judges from the Mod's organisers An Comunn Gaidhealach presented the Allan Thomas Mitchell award to Freya Stephen and her group after they saw off competition by only three points ahead of two groups from Lochaber.
Freya began her musical journey under the guidance of Edna Auld in Perth's Jambouree Choir, and has previously won awards at Perform in Perth.
This week's victory in the National Mod is the first time Freya has appeared on guitar and vocals.